---
Chord Hugo
Prenosný D / A prevodník a slúchadlový zosilňovač.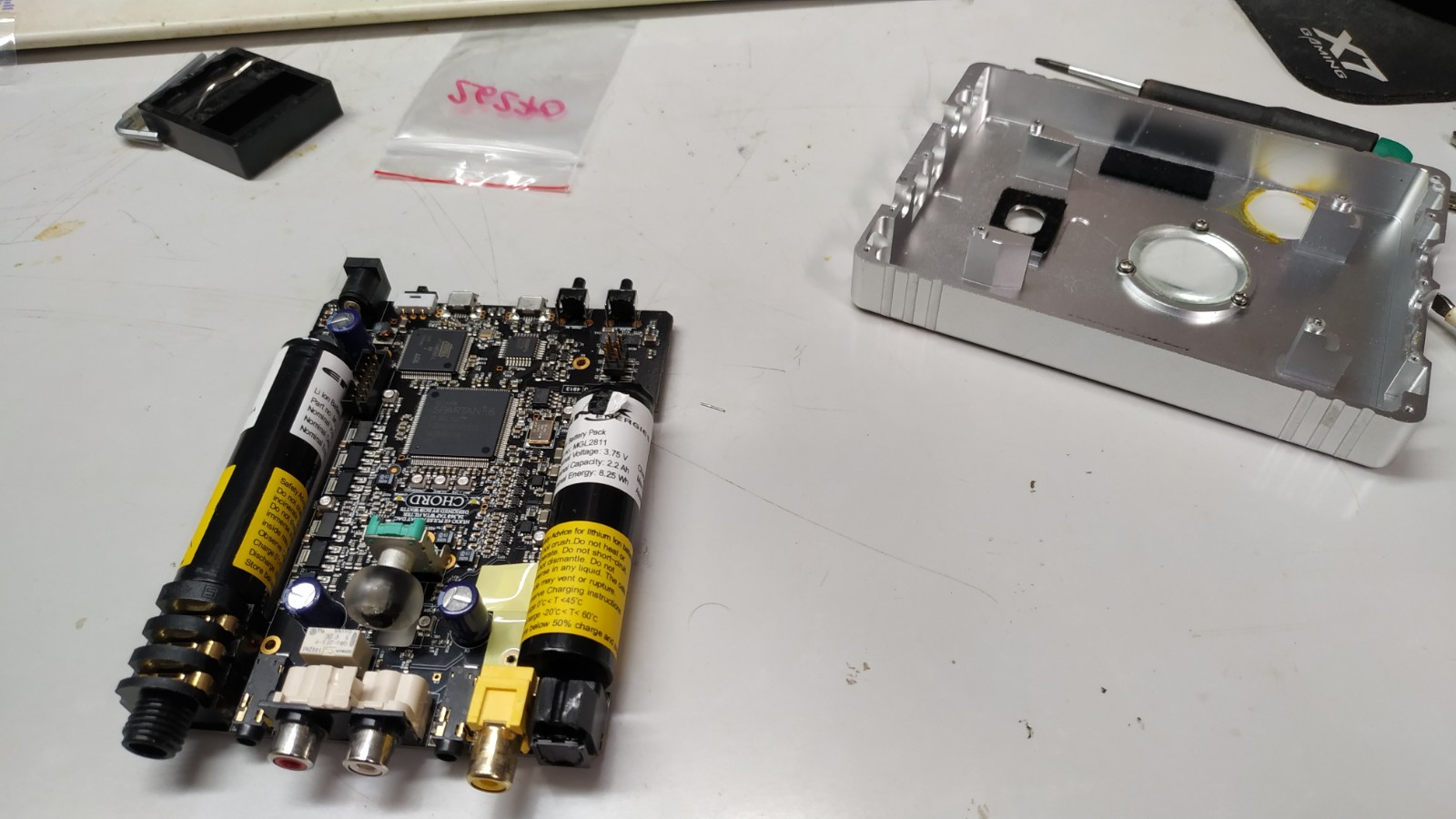 Oprava micro usb portu.
Materials: Clamshell precision machined aluminium casing with acrylic signal window and glass viewing portal. Available in a choice of two colours – natural silver, and satin black
Battery: 2x Rechargeable custom Enix Energies 3.7v 9.6Wh Li-ion (lithium-ion (2600mAh) batteries*
Tap length filter: 26,368 – 4 element Pulse Array design
Play time: In excess of ten (10) hours
Charging: Nominal eight (8) hours via included 12v 0.5a charger
Connectivity (input): Micro USB (White): 44.1kHz – 384kHz – 16bit – 32bit
Coax (RCA) (Red): 44.1kHz – 384kHz – 16bit – 32bit
Optical (Green): 44.1kHz – 192kHz – 16bit – 24bit
Connectivity (input wireless): Bluetooth (Apt X) (Blue): 44.1kHz – 48kHz – 16bit
Connectivity (output): 1x ¼" jack headphone output
2x 3.5mm jack headphone output
1x stereo (L & R) RCA output
PCM support: 44.1kHz, 48kHz, 88.2kHz, 96kHz, 176.4kHz, 192kHz, 358.8kHz, and 384kHz.
DSD support: DSD transmitted via DoP. DSD64 (Single) to DSD128 (Dual-DSD)
Volume control: Digital, activated in 1dB increments.
Line-level mode: Activated via dual press of Input and Crossfeed upon startup
Driver support: Driverless with Mac OS X and Linux, driver required for Windows OS
Komentáre
Prehľad komentárov